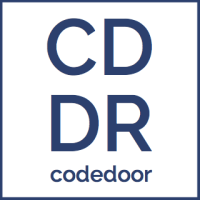 CodeDoor is a non-profit organisation that provides refugees and migrants the opportunity to learn to code. Participants receive a scholarship backed by silicon valley companies and enter a network of like-minded developers and companies.
Salesforce is the world's #1 Customer Relationship Management (CRM) platform, with 30,000 employees worldwide. Salesforce offers cloud-based applications for sales, service, marketing, and more. Their BuddyForce programme connects Salesforce staff with refugees, offering mentoring and insights into what it's like to work at the company.
Every Monday afternoon we meet up at the Salesforce offices on Kurfürstendamm in Charlottenburg, Berlin for learning support, additional training and exchange.
Tools of the trade - We provide access to the necessary tools for learning. Thanks to our partners we can also provide Laptops if required.
Knowledge exchange - Our team of talented tutors and speakers share their experience and a deep knowledge of the job market.
E-learning Content - We partner with the best computer programming e-learning platforms to provide access the right courses.
Community & Connections - We bring people together to create lasting connections and support you to extend your professional network.
Become a student:
If you are a refugee or migrant, speak a little English and have a basic IT knowledge, you can join the CodeDoor meets BuddyForce program in Berlin and learn to code.
For more information and to apply for a scholarship check the website: www.codedoor.org or contact support@codedoor.org.
You can join us on Meetup.com: https://www.meetup.com/CodeDoor-meets-BuddyForce
Our goal is to improve employment opportunities for refugees and migrants and aid integration into the job market! We provide access to computer programming training and support you to extend your professional network. Coding will open the door to a whole new life!