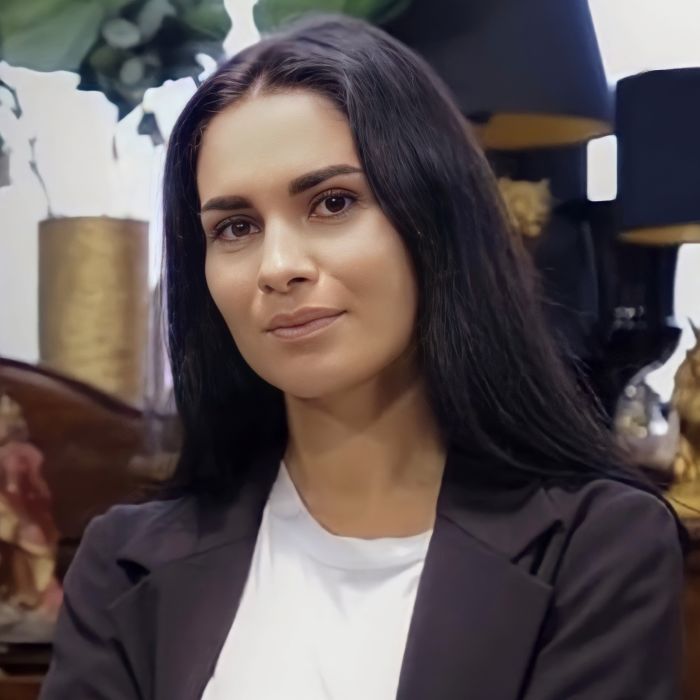 I'm 37 years old
and originally from Ukraine.
I'm in Germany for one year and 9 months
and live in Sande, Germany.
I'm looking for
a permanent position
or
a minijob
in the area of
Marketing, Advertising, Public Relations
(SMM),
Kitchen and service staff
(Konditorei, Bäckerin, Hilfskoch),
Hotel administration, restaurant management
(Hausmädchen, Putzfrau),
Child education and care
(Tagesmutter),
Building technology, structural engineering, civil engineering
(Florist Assistent) or
Graphic arts, design
(Video Macher, Content Macher).
Ich habe eine höhere Finanzausbildung – ein Finanzspezialist.
2008–2014 arbeitete ich als Kreditsachbearbeiterin bei der PrivatBank.
2014–2020 arbeitete ich als Konditorin.
Seit 2020 arbeitete ich als Digital–marketer (SSM–Spezialist). Ich erstelle Inhalte für Instagram, Facebook und Tik Tok und richte Target ein.
Ich führte Konten für Bekleidungsgeschäfte, Schönheitssalons und ein Business Center.
Ich bin kreativ und fotografiere gerne. Ich kann auch Video drehen und bearbeiten.
Ich bin flexibel, kann gut organisieren, arbeite schnell und bin immer pünktlich.

Ich bin bereit für jeden Job, aber freue mich, wenn meine Erfahrung und mein Wissen für Sie nützlich sein werden.
Studies: Instagram-Trends 2022

01/2022 - 01/2021

Dnipropetrowsk, Ukraine

Der Kurs von @visual.lover

Content Maker

Status: Completed successfully

SMM–Spezialist

01/2022 - 02/2022

Dnipropetrowsk, Ukraine

Hair stylist Miller

SMM–Spezialist

12/2021 - 02/2022

Dnipropetrowsk, Ukraine

LTD Menorah

SMM–Spezialist

11/2021 - 02/2022

Dnipropetrowsk, Ukraine

Elektrolyse meistern Kirichenko

SMM–Spezialist

08/2021 - 01/2022

Dnipropetrowsk, Ukraine

Blumenladen VESNA

SMM–Spezialist

07/2021 - 01/2022

Dnipropetrowsk, Ukraine

Blumenladen FLOKS

Studies: Content creator

04/2021 - 05/2021

Dnipropetrowsk, Ukraine

Der Kurs von @visual.lover

Storytelling

Status: Completed successfully

SMM–Spezialist

12/2020 - 08/2021

Dnipropetrowsk, Ukraine

Schönheitssalon BONITA

SMM–Spezialist

09/2020 - 09/2021

Dnipropetrowsk, Ukraine

Bekleidungsgeschäft OFFPRICE.dp

SMM–Spezialist

07/2020 - 09/2020

Dnipropetrowsk, Ukraine

Kosmetikgeschäft COSMO YANKA

Apprenticeship: SMM–Spezialist, Digital menager

06/2020 - 02/2022

Dnipropetrowsk, Ukraine

Instagram–Konten

Status: Not completed

Studies: Instagram–Marketing

06/2020 - 10/2020

Charkiw, Ukraine

@prodvigator_top

Instagram Marketer

Status: Completed successfully

Studies: Konditor (Diät–Desserts)

12/2018 - 01/2019

Charkiw, Ukraine

Tasha's cake school

Konditor

Status: Completed successfully

Studies: Konditor (Tarte, Tartelette)

09/2017 - 09/2017

Charkiw, Ukraine

Der Kurs von Elena Borisenko

Konditor

Status: Completed successfully

Konditor (diätetischen Dessert)

09/2016 - 05/2017

Dnipropetrowsk, Ukraine

BodyIron Company

Studies: Konditor (Èclairs,Tarte, Mousse-Kochen)

04/2016 - 04/2016

Dnipropetrowsk, Ukraine

Der Kurs von Natalia Peunkova

Konditor

Status: Completed successfully

Studies: Konditor (macaroons, Bûche, Süßigkeiten)

02/2016 - 02/2016

Charkiw, Ukraine

Der Kurs von ????? Boyko

Konditor

Status: Completed successfully

Studies: Konditor (Èclairs, macaroons, Mousse-Kochen)

10/2015 - 10/2015

Charkiw, Ukraine

Der Kurs von ????? Boyko

Konditor

Status: Completed successfully

Konditor

12/2014 - 08/2020

Dnipropetrowsk, Ukraine

Le Frunze

Apprenticeship: Konditorin

10/2014 - 06/2020

Dnipropetrowsk, Ukraine

Das Süßwarengeschäft Le Frunze, BodyIron Company

Status: Completed successfully

Studies: Konditor

09/2014 - 12/2014

Dnipropetrowsk, Ukraine

Kochstudio "FARTUK"

Konditor

Status: Completed successfully

Apprenticeship: Kreditsachbearbeiterin

08/2008 - 08/2014

Dnipropetrowsk, Ukraine

PrivatBank

Status: Completed successfully

Kreditsachbearbeiter

08/2008 - 08/2014

Dnipropetrowsk, Ukraine

PrivatBank

Studies: Finanzabteilung

09/2004 - 08/2009

Dnipropetrowsk, Ukraine

Staatliche Finanzakademie

Finanzspezialist

Status: Completed successfully