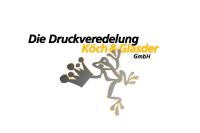 Industry

Media, graphics, design, printing, arts, crafts
Die Druckveredelung Köch & Glasder GmbH baut auf über 30 Jahre Erfahrung im Veredelungsbereich. Wir konzentrieren uns auf die Veredelung von hochwertigen Verpackungen aus Karton und Papier im Bereich von Kosmetik, Lebensmittelindustrie und Non Food Industrie.
Wir bieten Ihnen ein interessantes und vielfältiges Aufgabengebiet in einem zukunftsorientierten Unternehmen. Wir haben einen hochmodernen Maschinenpark und bieten alle technischen Möglichkeiten an. Wir sind spezialisiert auf den Bereich Prägefoliendruck, Kaltfolie, UV Lackierung und Digitaldruck Veredelung.
The print finishing Köch & Glasder GmbH builds on more than 30 years of experience in the finishing area. We focus on the refinement of high-quality cardboard and paper packaging in the cosmetics, food and non-food industries.
We offer you an interesting and diverse area of responsibility in a future-oriented company. We have a state-of-the-art machinery and offer all the technical possibilities. We specialize in the field of stamping foil, cold foil, UV varnishing and digital printing finishing.