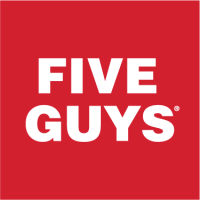 No. of employees

1001 - 5000
Industry

Tourism and gastronomy
Die Erfolgsstory von Five Guys beginnt 1986 im US-Bundesstaat, Virginia. Die Erfolgsformel ist simpel: handgemachte Burger und Fries, bei deren Zubereitung höchster Wert auf Qualität und Frische gelegt wird. Im Dezember 2017 eröffneten die beiden ersten Restaurants in Deutschland, mittlerweile sind es über 30 Stores - Tendenz steigend! 

1. Integrität: Ehrlich sein und respektvoll handeln. Das richtige tun – ​auch wenn keiner zuschaut!​ Do what you promise!​
2. Get it Done: Taten sind wichtiger als Worte. ​Nicht reden sondern machen!​Keep it simple!​
3. Leidenschaft: Wir lieben was wir tun und haben ​Spaß daran jedem Gast die besten Burger & Fries zuzubereiten. ​Be yourself!
4. Ehrgeiz: Wir lieben die Herausforderung und den Wettbewerb. ​Lieber Erster als Zweiter sein.​Work hard – play hard!
5. Familie: Wir geben aufeinander acht. Wir arbeiten zusammen und wir gewinnen zusammen.​ Feel the love!​