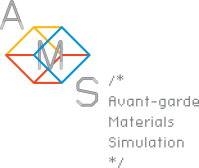 Founded in Paris by Dr. Marcus Neumann in 2002 Avant-garde Materials Simulation SARL (AMS) is privately owned and was created with funding and strong support from a major pharmaceutical company. The company's main goal is the development of software for crystal structure prediction (GRACE initiative).
In 2007 AMS opened a subsidiary, Avant-garde Materials Simulation Deutschland GmbH, in Freiburg, Germany, where all contract research is carried out by our Team.
OUR MINDSET
We are addicted to innovation
We are science, software and hardware experts
We will never settle for the second best
Our software is used by many large pharmaceutical companies
We are a multicultural company that serves a global market
We know how to connect to the right people
Our customer's problems are our problems
We develop new technology not just for, but with our customers
We are loyal to our clients, partners and staff
We are a family business
We care about our staff
We live and work in a great place
We support life-work balance
We do business to invest in science, not the other way around
We do what we say, and we say what we do
We adhere to the idea of sustainable development
ETHICS
Sustainable develop­ment is development that meets the needs of the present without compromising the ability of future generations to meet their own needs
(Brundtland report).
Support bright minds where ever they come from, and enable people that were not born in Germany to start a new life again.